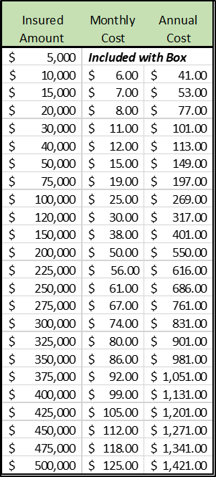 As a SecurePlus accredited facility, we insure your safe deposit box.
Every Guardian Vault box is insured for $5,000 of coverage.
Additional insurance at below market rates is available  
No Disclosures   No Appraisals   Complete Confidentiality
All property in your box is covered including cash, crypto coins and  bullion. Even important papers like wills, titles and deeds are insured.
All risk policy protects against theft, burglary, robbery, fire, flood, natural disasters, terrorist attacks and more.
Interested in renting a box.   Just talk with Brandon and  he will coordinate everything for you.   
We currently have a special promotion for new box rentals. For details go to:  www.guardianvault.biz/refer-a-friend  
Why Additional Coverage? 
At Guardian, we provide the most secure, confidential and convenient way to protect your property.
But there are certain events that no vault can fully protect against. History shows that some of the most secure facilities in the world have been breached.  Over the past few years, approximately  50,000 safe deposit boxes have been damaged  by natural disasters, fires and burglaries impacting  an estimated $1.2 billion dollars of property. 
Thus, we strongly encourage our clients to consider insuring their box for the full value of the assets being stored.  If catastrophe strikes, you have an insurance certificate for the full value of your property from one of the largest insurance companies in the world. 
 Insurance offered  through SDBIC in partnership with AXA ART  North America, part of one of the largest insurance companies in the world.

Why Use Our Safe Deposit Box Services?
Statistics don't lie; you should not store valuables at your home or business. Assets are seventy times more likely to be stolen or damaged there, as compared to a commercial  vault. Even when you have the best safe money can buy, a quality, off-premises facility is always the better choice according to the FBI, state law enforcement, FEMA and even the Red Cross.
Minimize the possible risk of asset seizure. Many banks are de-emphasizing their box services, not investing in modern technology to authenticate the identities of those accessing the box and reducing the number of staff and training given to those who oversee the safe deposit box service. This has led to an unprecedented increase in the number of boxes being picked from unattended bank vaults, banks mistakenly drilling wrong boxes and then losing the property . 
Custodial  and Insured Shipping Services. Ship your valuable assets directly to our facility where we can hold them in a secure vault for you , whether short or long term. We can also provide insured shipping for your assets. 
YOU DO THE MATH: 
SDBIC costs far less & covers far more than any homeowners insurance option available today.

---