Obtain a quote in 2 simple steps
For Assistance Call Us Toll Free
844-426-9467
We insure your safe deposit box.
Because your bank doesn't.
Did you know items stored in a bank vault are 17x safer than in your own home?
It's why the FBI, AARP, American Red Cross and many others recommend using a safe deposit box. They're one of the most convenient and inexpensive ways to protect your valuables.
But no bank or any federal agency insures the contents of your box.
It's why we developed—and patented—the first and only insurance solution that covers all the items in your box, without you having to tell us what's inside.
SDBIC covers against natural disasters such as: flood, fire, tornadoes and other catastrophes.
SDBIC provides blanket insurance for all the property in your box without requiring disclosure of the contents. Our insurance covers cash, gold, coins, collectibles, jewelry, family heirlooms and more. It also provides $3,000 of replacement cost insurance for your important documents, photos and digital backups.
Policies start at $25 a year for $5,000 of coverage. Sign-up is fast and easy online or by calling us at 844-426-9467.

 SDBIC coverage is offered in partnership with AXA ART, a member of the global AXA Group, one of the largest insurance companies in the world.
Why Safe Storage?
Safe deposit boxes remain the best option–both the safest and cheapest–for storing valuables such as currency, bonds, cash, gold, silver and even important papers like wills, trusts, titles, deeds, photos and digital backups.
In the past three years, more than 50,000 boxes have been impacted by flooding, fires and other natural disasters, affecting more than $1 billion in property.
Given the increased frequency and severity of natural disasters and other catastrophes, which no vault or box can protect against, it is recommended that box holders maintain some level of insurance coverage.
With SDBIC, you simply store it and insure it.
YOU DO THE MATH: 
SDBIC costs far less & covers far more than any homeowners insurance option available today.

---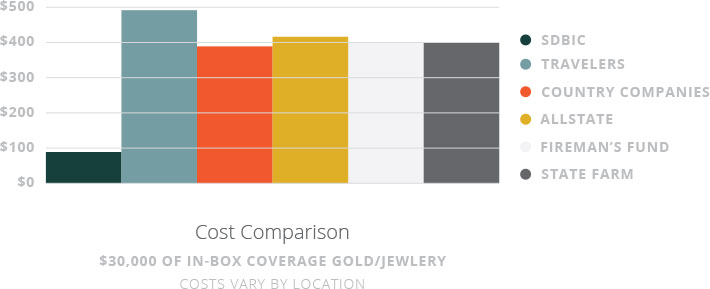 If you're insuring valuables through a rider on your homeowners or renters policy, we can save you time and money.
SIMPLE:  No appraisals or deductibles. Sign-up takes 5 minutes.
COVERS MORE:  If it's legal we insure it—even cash, gold, and personal and financial documents are now covered.
PROTECTS MORE:  All natural disasters—even flooding and hurricanes—plus burglary and robbery, and more.
COSTS LESS:  You choose the coverage amount, starting at $25/yr for $5,000 coverage.