Obtain a quote in 2 simple steps
For Assistance Call Us Toll Free
844-426-9467
We insure your safe deposit box.
Because your bank doesn't.
Did you know items stored in a bank vault are 17x safer than in your own home?
It's why the FBI, AARP, American Red Cross and others recommend using a safe deposit box. They're one of the easiest and cheapest ways to protect your valuables.
But no bank or any federal agency insures the contents of your box.
It's why we developed—and patented—the first and only insurance solution that covers all the items in your box without even having to tell us what's inside.
You simply 'Store it and insure it.'
Covers More
If it's legal, we insure it. Even previously uninsurable items, such as cash, gold, and personal and financial documents are now covered.
And all of your items inside the box are protected against burglary and robbery, and all natural disasters—including flooding, which is the #1 cause of damage to bank vaults
Costs Less  
We cost a fraction of the closest competitive insurance option. Our pricing is also fully transparent.  You choose the amount of coverage that's right for you—starting as low as $25-year for $5,000 coverage.
Easy to Purchase & Manage
Sign-up takes 5 min and requires only basic personal and payment information. You can manage your policy online—modify coverage limits as you put in or take out items, for example.
SDBIC coverage is offered in partnership with AXA ART, a member of the global AXA Group, one of the largest insurance companies in the world.
You Do the Math: Comparing SDBIC to Homeowners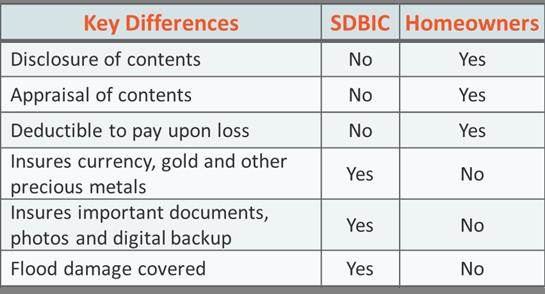 Our coverage is far more comprehensive and less expensive than a homeowners policy.