Obtain a quote in 2 simple steps
For Assistance Call Us Toll Free
844-426-9467
Protect what you collect.
Whether a serious investor or the casual collector who has inherited property, protecting and insuring your collectibles is a priority.
It's why the FBI, AARP, American Red Cross and others recommend using a safe deposit box. They're one of the easiest and cheapest ways to protect your valuables.
But no bank or any federal agency insures the contents of your box.
It's why we developed—and patented—the first and only insurance solution that covers all the items in your box, without you having to tell us what's inside.
Quite simply, we provide the most comprehensive protection at the lowest possible cost—starting at $25yr for $5,000 coverage. And sign-up takes just 5-mins.

 SDBIC coverage is offered in partnership with AXA ART, a member of the global AXA Group, one of the largest insurance companies in the world.

 SDBIC Solution
SDBIC policy will cover your coins, currency, stamps plus any other property you elect to store in the box, including previously uninsurable items such as: cash, titles, deeds, even certifications and appraisals if destroyed.
Protection is provided against natural disasters and catastrophes including: floods, hurricanes, earthquakes and terrorist attacks which are excluded on many policies. There are no geographic exclusions (i.e., coastal areas).
You simply store it and insure it.
YOU DO THE MATH: 
SDBIC costs far less & covers far more than any homeowners insurance option available today.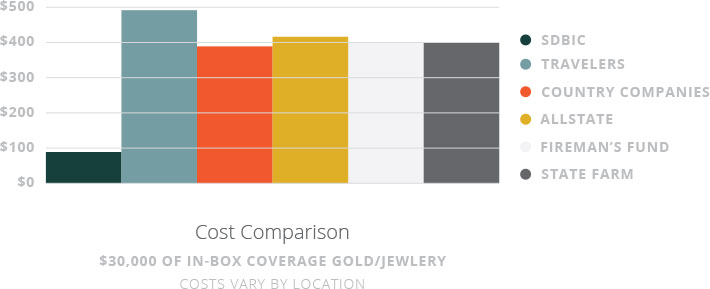 If you're insuring collectibles through a rider on your homeowners or renters policy, we can save you time and money.
SIMPLE:  No appraisals or deductibles. Sign-up takes 5 minutes.
COVERS MORE:  If it's legal we insure it—even cash, gold, and personal and financial documents are now covered.
PROTECTS MORE:  All natural disasters—even flooding and hurricanes—plus burglary and robbery, and more.
COSTS LESS:  You choose the coverage amount, starting at $25/yr for $5,000 coverage.